Celebrities do everything in style. Even if it is their own birthday and someone else is organizing it, you can rest assured about something different and unique that will make the celebrations way different from what we actually see. Celebrities live a very public life and they have to ensure that they are always in the news and celebrating a birthday is also an extension of this thought process. They try to catch everyone's attention by throwing a jazzy party and keeping a weird theme or having a birthday cake which is beyond our imagination.
What is so special about Celebrities' birthday cake?
If you find out more about celebrities' birthday cake, you will be surprised to see how much creativity and out of the box thinking goes into crafting such a cake. The idea is to capture the attention of the guests and give them something to remember and talk about for a long time to come. Right from the theme of the party to décor to food to the guest list, everything is over the top and is just like living a fantasy. So, let us check out some awesome celebrities' birthday cake that has been the talk of the town for some time.
Salman Khan's 50th Birthday Cake
Lovingly called as Bhaijaan, Salman Khan was surprised by her kid sister Arpita Khan with a substantial gravity-defying cake for his 50th birthday that left everyone awestruck. It was a customized birthday cake which was three-tiered and cost a staggering amount of 1 Lac. The cake was truly amazing and worth the cost.
Robert Downey Junior's 48th Birthday Cake
Also famous as Iron Man, Robert Downey Junior celebrated his 48th birthday recently. He cut an impressive Iron Man 3 customized birthday cake on the occasion of Iron Man 3 premiere which was organized in Seoul, South Korea. It was a starry affair and graced by some of the well-known personalities of the film industry.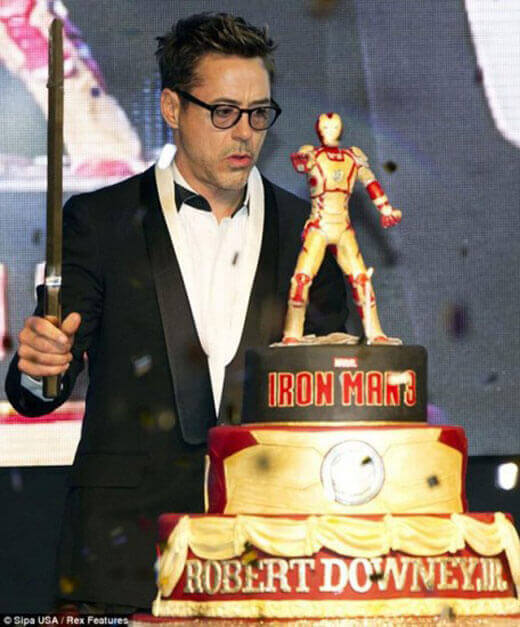 Lady Gaga's 30th Birthday Cake
Lady Gaga, a renowned entertainer as popular as the "Bad Romance" recently celebrated her 30th birthday. Since she is a great ardent dog lover and loves her pet dogs immensely, her friend, Tonny Bennet decided to surprise her with a stupendous cake that featured her adorable pets. Suffice to say that it was genuinely adorable.
Tom Cruise's 50th Birthday Cake
Tom Cruise, the famous Hollywood star recently celebrated his 50th birthday. The famous heartthrob had one more reason to rejoice, and that was receiving an Entertainment Icon Award given away by Friars Club. The moment was celebrated by a gigantic birthday cake crafted by New Jersey-based Palermo's Bakery showcasing his acting career and prominent roles played by him. The cake was undoubtedly the center of attraction.
Hema Malini's 70th Birthday Cake
The Bollywood diva or the Dream Girl as she is popularly referred to as Hema Malini celebrated her 70th birthday. The cake was a piece of art and a pinnacle of creativity. The cake was a peacock-themed cake which was not only delectable as expected but also dreamy looks. The graceful lady cut this equally elegant cake with great panache.
1st Birthday Cake of Soha Ali Khan's Daughter
Kunal Khemu and his beautiful wife, Soha Ali Khan recently celebrated their daughter, Inayya Naumi Kemmu's first birthday. It was a jungle-themed party where the chubby baby cut a pink fondant birthday cake adorned with a variety of jungle animals. The cake looked impressive and scrumptious.
Kylie Jenner's 18th Birthday Cake
Kylie Jenner is a beauty enthusiast and a prominent internet sensation. She cut a fire engine red cake on her 18th birthday with her lips, her most significant assets finding the place atop the cake. This lusciously rich cake was the talk of the town for quite some time.
Mark Zuckerberg's 33rd Birthday Cake
In times when people prefer to send cake online, celebrities are enjoying the day of their life by cutting awesome cakes commissioned especially for them by their friends and lovers. Mark Zuckerberg, the Facebook Founder celebrated his 33rd birthday wherein he was surprised by his team with a beautifully crafted meat-shaped birthday cake. The birthday cake was baked for him especially to show his love for meats as accepted by him on a Live Facebook video in 2016.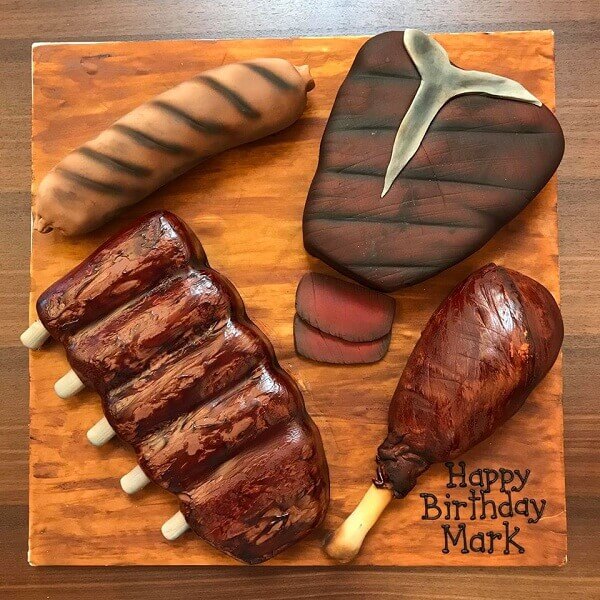 Beyonce's 36th Birthday Cake
Beyonce is another popular American singer who enjoys a tremendous fan following. Recently, she celebrated her 36th birthday party and got the opportunity to cut one of the most sensational birthday cakes of all time. This three-tiered cake was designed and created to show her iconic Grammy Awards outfit. This dress is said to have cost her near about US$3,500.
1st Birthday Cake of Asin's Daughter
Asin, the popular Bollywood actress who is known for her fantastic performance in Ghazni opposite Amir Khan recently celebrated her daughter's 1st birthday party. It was nothing less than a showstopper cake with a theme showcasing Arin's personality. Since this adorable girl love books, the outdoors, and travel, the cake was crafted accordingly.
Thus, celebrity cakes do give us serious cake goals. Many reputed cake delivery shops like FaridabadCake offers personalized cake solutions. You can choose a cake as per your choice and have them send cake online to your friends and near and dear ones.